Welcome back to my blog, or if you've just come across The Disoriental:
Hello! Welcome! Come in! Have a cuppa!
Last week we've started the Valentines' liquid lipstick saga- if you haven't already read the first post, you can do so here.
Now… Which one emerged as the forerunner between the two liquid lipsticks?
Drumroll…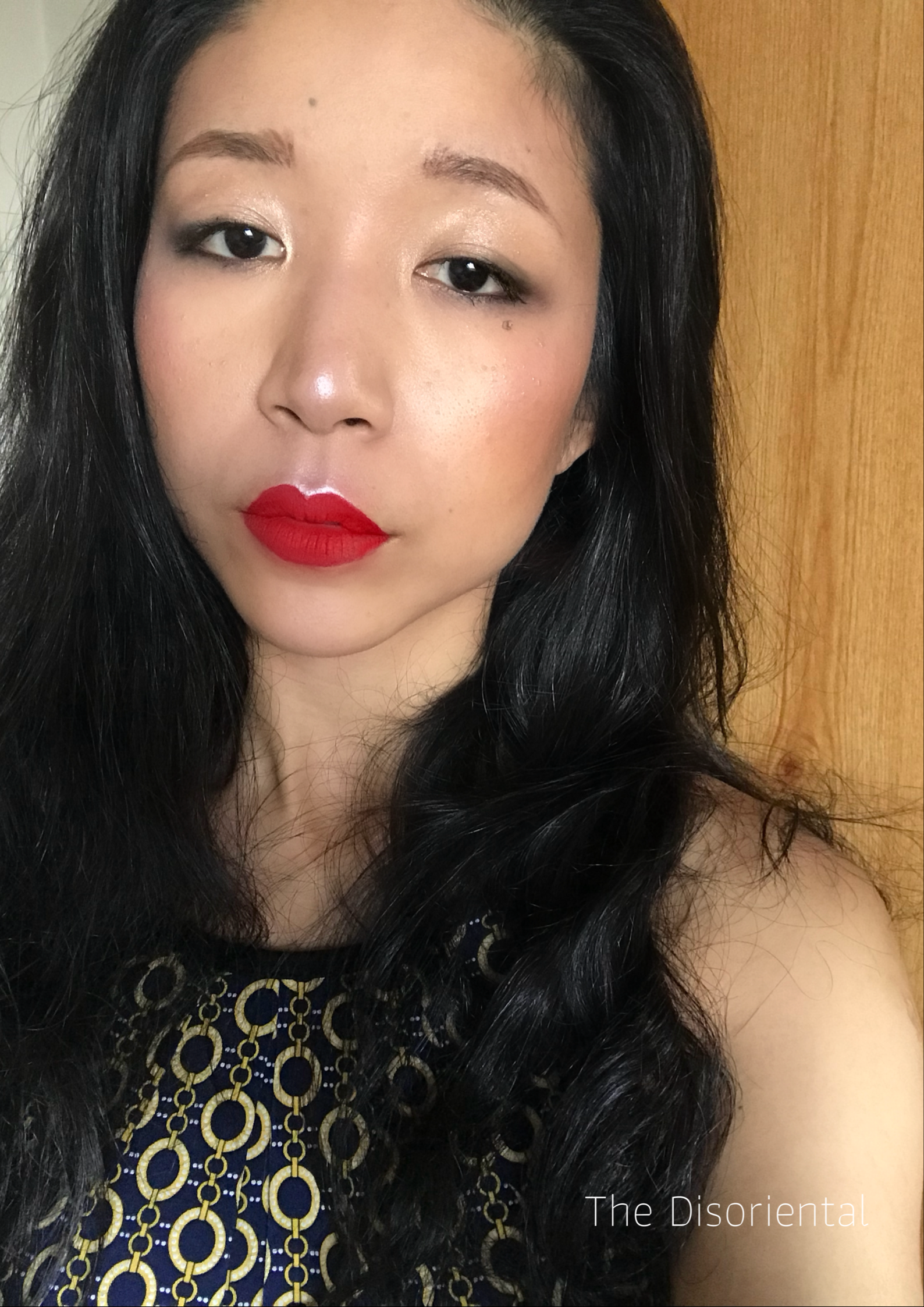 (Jeffree Star Cosmetics' Velour Liquid Lip in shade 'Redrum')
It was a DIFFICULT decision. I clearly loved both of them, however, I do feel for Valentines' day, JSC's Redrum gave a much more striking look in terms of colour for me. Afterall, there is a reason this is the OG liquid lip in my makeup bag!
So… Who will join JSC's Redrum on the forefront?
This week… The two liquid lipsticks introduced are:
*MAC's Retro Matte Liquid Lipcolour in shade FASHION LEGACY
*Lime Crime's Velvetines Liquid Lipstick in shade RED VELVET .
I have previously used MAC's liquid lip in a different colour (though we're talking years back!). Lime Crime is a new experience for me, and this brand had been one of those I-really-want-to-try-one-day brands.
As this post was created over the holiday period, I took the opportunity of my Christmas lunches/dinners/shopping trips to wear and experience the individual liquid lips.
One thing that stood out most to me when using these two liquid lips is though as if I am using acrylic paint and watercolour - both with its own benefits, and it ultimately boils down to what the painter prefers and wants for their endgame.
I do stand by MAC's quality of application and pigment - when you wear this liquid lipcolour, it is so easy and smooth to manipulate the product. It has a very creamy and thick consistency. The colour is very vibrant (as MAC describes it: an intense, firetruck red) and MAC definitely are NOT playing when it comes to the pigment. The formula somehow dries faster despite its creaminess, though as the day goes by, I find that the MAC lip really dries up A LOT. When I went on to dab on some lip balm to soothen my lips, I found there was some flaking/crumbling of the product and my lips. I would, however, consider this to be an individual experience as we all have different lip textures and skin moisture levels - so what I experience could be exclusive to me. The colour would also come off when I touch it and needed to be careful not to smudge it throughout the day. It is almost as if its strengths of this formula are also its downfalls?
Lime Crime's liquid lipstick is of a more runny consistency and therefore when applying this product, it requires slight more care and slow precision. It dries slightly slower than the MAC liquid lip and I found the applicator very useful in facilitating the ease of application. When swatching LC though, somehow because of its consistency, it dried up in patches, unlike MAC which dried out very evenly - this however, did not happen when applied onto my lips; it was actually quite buildable. Adding on to that, I really LOVED the smell of vanilla. The shade of red as described by Lime Crime is a true red and made my lips REALLY pop out and become the centre piece. Throughout the day, the lip did dry but to an expected and comfortable point and applying lip balm was a non-fuss remedy. There was minimal smudge.
So which liquid lip is one step closer to being my valentine?
We shall find out next week!
Which one do YOU think will make it through?
XXX
The D.
*
Thank you for reading.
I would love to hear about your favourite red lipsticks/liquid lipsticks. Which ones are the staples/love of your life? Did you try any of the liquid lipsticks so far?
Let me know in the comments below, on Instagram (@Jingely), or on Twitter (@Jingely)!
< If you like my content, why not subscribe to my mailing list and stay updated?
Click here to subscribe.
You can find me on Instagram here
Tweet me and say hi on Twitter here >
Note: I'd like to state clearly that this series and my posts are based on my experiences and opinion which may or may not change over time; and the experience definitely varies person to person. Nothing is ever set in stone and this is supposed to be an invitation to discuss, enjoy, explore, and share.
Please read for enjoyment and entertainment, and I will always advocate for experiencing each product for yourself to establish your own firm and unique opinion. I respect all the brands that are mentioned on my website and only seek to build a platform where authentic experiences can be expressed. Any sponsored and/or affiliated posts are and will be explicitly mentioned.
Thank you for your support and time!
J x